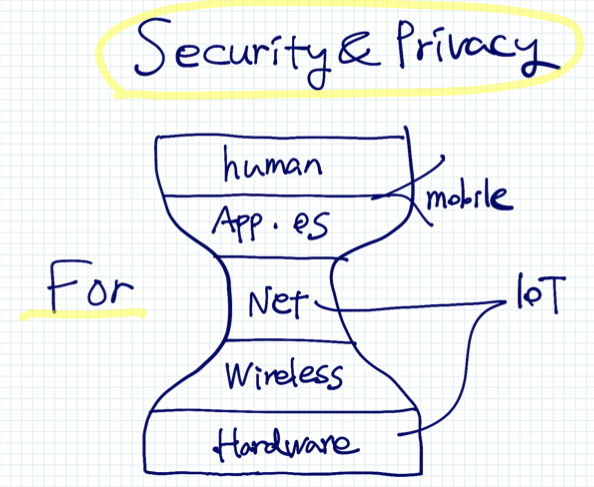 At our laboratory, we are committed to researching information security and privacy with the goal of safeguarding the diverse systems that underpin our daily lives from malicious attacks. Our research spans a wide array of subjects, encompassing desktop PCs, servers, mobile devices such as smartphones and smartwatches, network-connected embedded devices like IoT gadgets, the operating systems and software that power these devices, as well as wireless networks and the Internet, which are crucial for connecting standalone devices to the net. In recent years, we have also been actively investigating security issues related to artificial intelligence (AI) and autonomous driving systems. Additionally, we place a strong emphasis on studying the human element, which should be at the heart of networked systems. In doing so, we address a broad spectrum of research topics, from lower to upper layers, with a focus on security and privacy.
Security and privacy research is inherently interdisciplinary, merging various fields of study. Another fundamental aspect of security research is the necessity to approach one's research from the attacker's perspective.
Our research topics encompass, but are not limited to: AI security, autonomous driving security, mobile security, IoT security, VR/AR security, Web3 security, malware analysis, exploit code analysis, web security and privacy, side-channel attacks, social engineering, usable security, user-friendly and secure password analysis, and security and privacy technologies for individuals with disabilities.
当研究室では、日常生活を支える多様なシステムを悪意ある攻撃から保護することを目標に、情報セキュリティとプライバシーに関する研究に取り組んでいます。私たちの研究は、j人工知能、自動運転車、デスクトップPC、サーバー、スマートフォンやスマートウォッチなどのモバイルデバイス、IoT機器のようなネットワークに接続された組み込みデバイス、デバイスを駆動するオペレーティングシステムやソフトウェア、およびデバイスをネットに接続するために不可欠な無線ネットワークやインターネットなど、幅広い分野をカバーしています。さらに、ネットワーク化されたシステムの中心にあるべき人間要素(ヒューマンファクター)に着目した研究にも重点を置いています。このようにして、セキュリティとプライバシーを中心に、下位層から上位層まで幅広い研究トピックに取り組んでいます。
セキュリティとプライバシーの研究は、本質的にさまざまな分野が融合した学際的研究領域です。また、セキュリティ研究のもう一つの基本的な側面は、攻撃者の視点から研究を行うことの必要性です。
我々の研究トピックは、AIセキュリティ、自動運転セキュリティ、モバイルセキュリティ、IoTセキュリティ、VR/ARセキュリティ、Web3セキュリティ、マルウェア解析、エクスプロイトコード解析、ウェブセキュリティとプライバシー、サイドチャネル攻撃、ソーシャルエンジニアリング、ユーザビリティのあるセキュリティ、使いやすく安全なパスワード解析、および障害者向けのセキュリティとプライバシー技術など多岐に渡ります。また、必ずしも上記のトピックに限定されず、常に新しいターゲットに目を向けています。